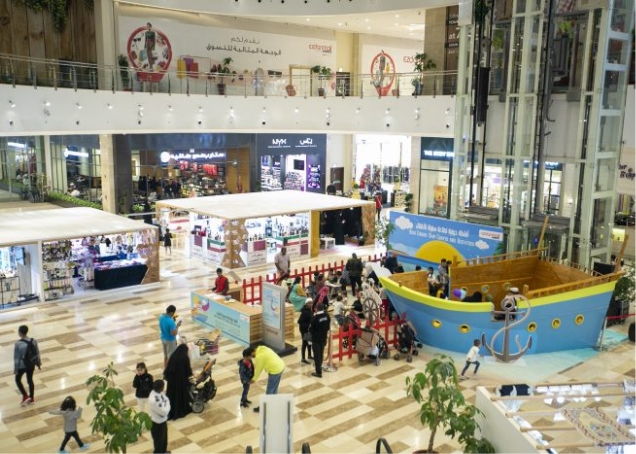 17 Dec , 2019
Myriad of cultural and heritage events in marking Qatar National Day at Ezdan Mall
In marking Qatar National Day amid an ambience charged with emotions of patriotism, Ezdan Mall Company has announced organizing a myriad of cultural and heritage events for its vast audience to reflect national pride, loyalty, and solidarity, in commemorating Qatar's unification and the anniversary of the state founder Sheikh Jassim bin Muhammad bin Thani. The festivities will commence on 18 December and wrap up on 20 December, simultaneously in both Ezdan Mall Al Gharafa, and Ezdan Mall Al Wakra.
The activities that will kick off on Wednesday from 6 p.m. to 9 p.m. will include the Ardha folkloric dance. The audience will write notes of dedication over a distinctive mural with sublime words of love and appreciation for Qatar and the Emir. As for children, they will dip their hands in bright colors. Ezdan Mall also installed a Majlis seating, and will distribute flags, balloons and carries out workshops of face painting.

Meanwhile, Ezdan Mall Al Gharaffa's aircraft event is still running as people have been flocking to the event courtyard to enjoy the activities. Similarly, the kids' activities themed "the cruise ship" witnessed massive turnout at Ezdan Mall Al Wakra.

The national festivities that extend over three days from 6 p.m -9 p.m. are organized in line with Ezdan Mall's keenness to partake in raising national awareness of youth and enhance people's engagement in the prosperity and development of their homeland.

In conjunction with this, Ezdan Malls entertainment activities that are running from December 12, 2019 – January 10, 2020 every Thursday and Friday from 6-9 pm, have been witnessing a huge turnout by children and families, in which they experience fun and entertainment that suit different age groups. In Ezdan Mall Al Gharaffa the aircraft event is designed to allow kids experience aviation and sitting in cabin crew as pilots where parents can take pictures. Ezdan Mall Al Wakra's cruise ship event is dedicated to sea lovers, where they can enjoy boarding the cruise and unveil the secrets of sailing, anchoring and shipbuilding.

Ezdan Mall organizes seasonal activities throughout the year, including national, cultural, and entertainment events, as well as shopping, with the aim of achieving the highest levels of communication with the public and creating a family atmosphere within the Malls, which proved impressive success within a short period, as the mall is keen to participate in Celebrating the National Day through cultural activities, as well as holding summer festivals for shopping and entertainment, and distinguished Ramadan activities that include seminars, lectures and religious competitions.

Ezdan Mall Al Gharffa, since its opening in mid- 2013, has contributed to a boom in the country's retail sector, by stimulating shopping footfall, due to its response to the needs of visitors, and it contains a number of international brands that penetrate for the first time in the Qatari market, in addition to the distinguished services. It gives visitors a unique shopping experience, and contributes to attracting large numbers of shoppers.